Portrait Gallery
Click here to skip to the portrait commission process!︎
Clare // 2020, 6"x8", watercolor, india ink, acrylic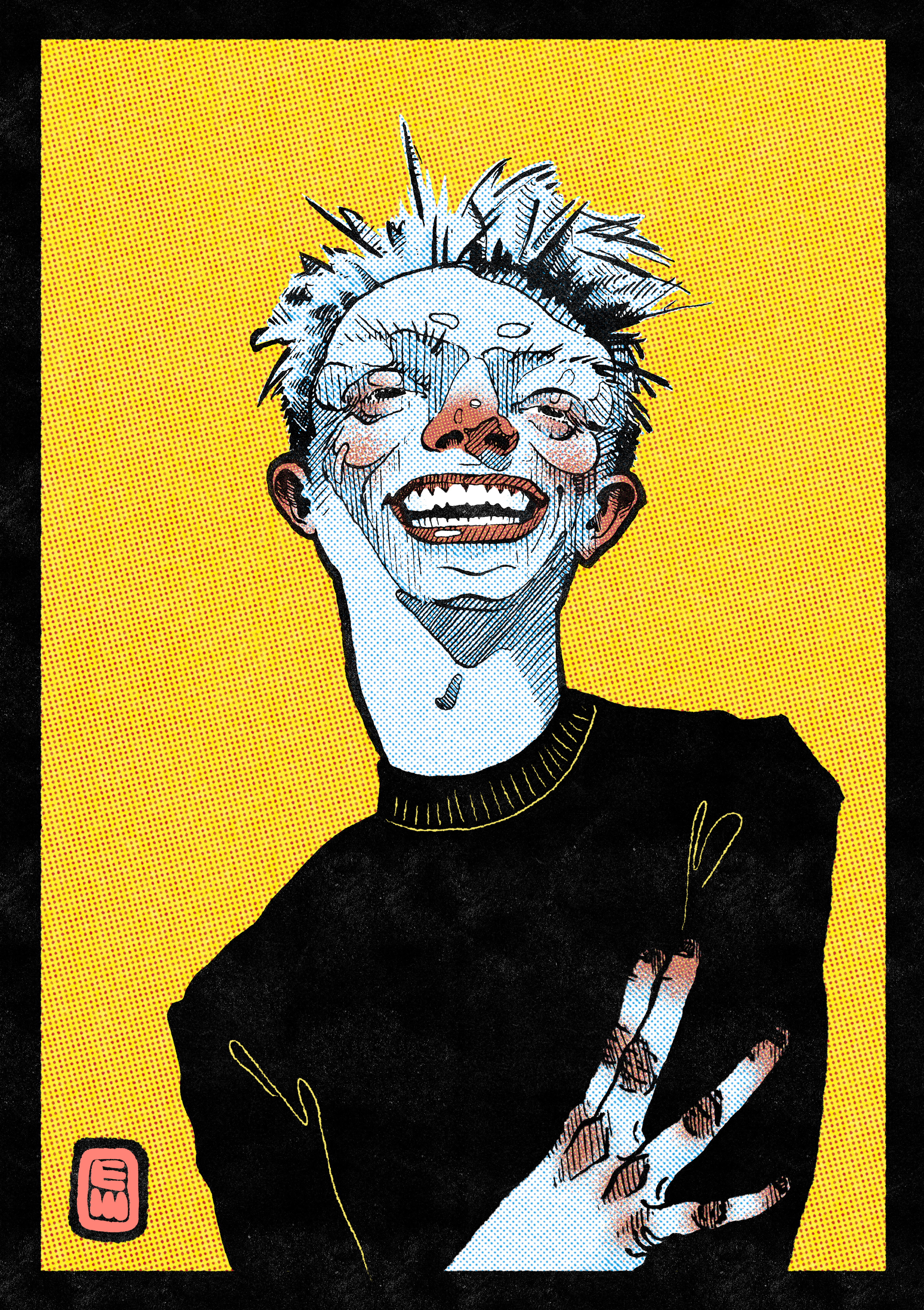 Clare // 2020, digitized package, for use on the web
Dr Clare Hammoor
is Director of Inquiry and Instruction at Compositive Primary School, and a collaborative theatre-maker. Clare wanted a headshot/portrait for professional use that would "invite folks into thinking and being playful".
About his portrait Clare says,
"(My) portrait makes me feel like I have sparkle, joy, sophistication, and fun. I am enamored with her style and her way of styling me."
Rico
// 2021, 11" x 8", watercolor, gouache, ink
Rico // 2021, dimensions variable, digital rendering

My client Linda ordered a portrait of her adorable labradoodle, Rico! Linda opted for the standard paint and ink portrait (above left), and also chose to add the optional digital rendering (above right). Rico is depicted with some of his favorite toys! The digital rendering on the right is designed to look great wherever you may want to post it online, and it can also be uploaded to my Society6 page so you can order your pet on mugs, tote bags, and other merch! It also serves as a soft color proof that I try to match when mixing paints and painting in the final portrait. Sometimes the physical copy looks better with slightly different colors in person, so I make those adjustments as I work. Hence the color difference you see here! This side by side comparison is a great way to imagine how your portrait might look!


---
Portrait Process
Commission your very own original, authentic, nothing-else-like-it portrait! Here's the process and pricing, and if you want to commission your own,
contact me
and let's get started!
Step 1: Pick Your Size
Look at my portfolio of completed artworks to get an idea of what your loved one, pet, or very own self would look like in my style. Then pick the size that fits your budget!



The above prices include materials, shipping, and hand-matting service that I provide.


Step 2: Get in Touch
Fill out this form to request a portrait and give me the essential information I'll need to get started!
*Please note that your spot on the waitlist is secured with your payment. If the portrait is for a special occasion, like a birthday or anniversary, please schedule well in advance to make sure it's in your hands before that date.


Step 3: Making Art!!!

Taylor Rogers
// listen to her work
here
It's time for my favorite step! I'll take everything we've discussed, and the photos you've sent me, and get to work rendering your own, original, one-of-a-kind ink portrait in the size you chose. I will post process photos to instagram and my site unless you've asked me not to because it's a surprise. When I have a pencil draft (about halfway through the process) I'll send you a scan, and with your blessings I'll begin inking the final rendering! When it's finished, you'll get another message from me with a scan of the finished work, and I'll then package and ship your artwork to you! You will receive a tracking number and expected delivery date.
Step 4: Your New Aquisition!

Every finished piece comes with a signed certificate of authenticity and care instructions.
I pour my heart and soul into my drawings, and each one has the potential to survive to be passed down through generations if cared for properly.

And thank you so much for being my client!


Clare Hammoor Unboxes His Portrait
//

Check out Clare's work

here!